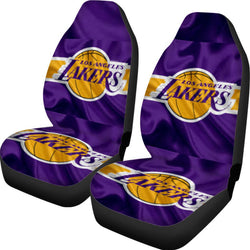 Yoycol
Los Angeles Lakers Universal Car Seat Cover With Thickened Back
The front cover made of short plush, and the back cover made of microfiber.

Product Size is 130*48cm.

The product includes a pair of seat covers.

Feature:comfortable and durable.

Fit all cars and midsize SUVs made after 1995

Unlock your inner champion with the Los Angeles Lakers Universal Car Seat Cover! Experience legendary style while protecting your seat with thickened back and custom Lakers detail. Take the court and drive in confidence!
Size Guide