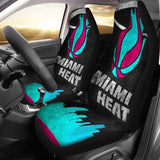 Yoycol
Miami Heat Luxurious Automobile Seat Cover With Thickened Back
Greet luxury and comfort with this Miami Heat Automobile Seat Cover. Features include a thickened back for extra support and a spectacular look to spice up the interior of your car. Get ready to experience the comfort of luxury in your ride!

The front cover made of short plush, and the back cover made of microfiber.

Product Size is 130*48cm.

The product includes a pair of seat covers.

Feature:comfortable and durable.
Size Guide